Javascript learning online is quite easy. You dont have to buy these valuable books. You can practice them online. Actually there are only few pdf book available for free. One of them below is free. Others are not free. In one of my previous post i have given the pdf collection of some javascript eBook for free. Download All JavaScript Tutorials For Beginners In PDF. You can also Download the W3 Schools offline to learn Javascript. I hope this collection of Learning Online JavaScript e book will help you to acquire some basic knowledge. You have to buy them, if you want to practice them offline. So lets begin.
jQuery Fundamentals: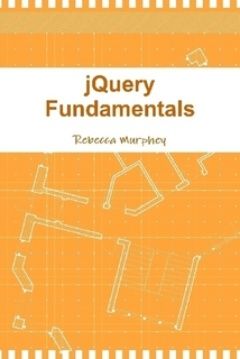 Read it jQuery Fundamentals
jQuery Fundamentals is designed to get you comfortable working through common problems you'll be called upon to solve using jQuery. To get the most out of this site, you'll want to read the content and try the various interactive examples. Each chapter will cover a concept and give you a chance to try example code related to the concept.
We highly recommend using this site with the Chrome browser or another browser that supports modern JavaScript features and includes good developer tools.
The best feature is that each chapter of jQuery Fundamentals includes example code that demonstrates the concepts being discussed. Click on the  icon in the bar above the example to copy the example to the editor at the top of the page.
Another great feature is most pages on this site include a built-in editor where you can try out code. This code will run against the markup that's displayed in the box to the right of the editor. To run the code in the editor, click the  button. Reset the results area to its original state by clicking the  icon.
Essential JavaScript Design Patterns For Beginners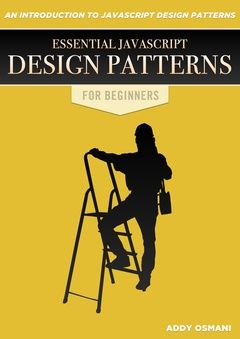 Read : Essential JavaScript Design Patterns For Beginners
Another great book from Addy Osmani.
This book is written both for beginners and intermediate developers, a basic understanding of JavaScript fundamentals is assumed, targeted at professional developers wishing to improve their knowledge of design patterns and how they can be applied to the JavaScript programming language. In this book it will explore applying both classical and modern design patterns to the JavaScript programming language.
Sams Teach Yourself JavaScript in 24 Hours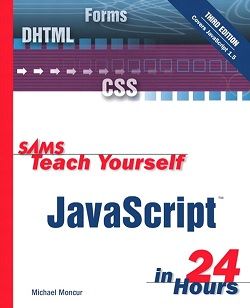 Read: Sams Teach Yourself JavaScript in 24 Hours
JavaScript is one of the easiest, most straightforward ways to enhance a Web site with interactivity.
Sams Teach Yourself JavaScript in 24 Hours serves as an easy-to-understand tutorial on both scripting basics and JavaScript itself. The book is written in a clear and personable style with an extensive use of practical, complete examples.
The Third Edition of Sams Teach Yourself JavaScript in 24 Hours includes material on the latest developments in JavaScript and Web scripting.
Readers will learn how to use JavaScript to enhance Web pages with interactive forms, objects, and cookies. They will also discover how to use JavaScript to work with games, animation, and multimedia.
Smooth coffeescript
Read: Smooth coffeescript
Smooth CoffeeScript is a book about CoffeeScript and programming. Start with programming fundamentals, learn about functional programming with Underscore and problem solving, study object orientation and modularity. It covers client/server web apps with Canvas and WebSockets. You can Download the PDF of Smooth coffeescript without solutions.
No previous programming knowledge is required. CoffeeScript lets you write web oriented applications simply and elegantly. It is closely related to JavaScript but without its quirky corners. Together with the JavaScript Basics supplement you can learn both at once.
Eloquent JavaScript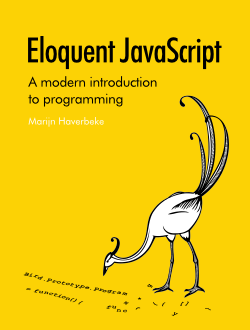 Eloquent JavaScript is a book providing an introduction to the JavaScript programming language and programming in general. The book exists in two forms. It was originally written and published in digital form, which includes interactive examples and a mechanism for playing with all the example code. This version is released under an open license.
"A concise and balanced mix of principles and pragmatics. I loved the tutorial-style game-like program development. This book rekindled my earliest joys of programming. Plus, JavaScript!"
—Brendan Eich, the man who gave us JavaScript
So lets start learning's Java script Online. I will see on web, if i can find Free PDF of Java Script learning.
Update: Learn Basic Javascript at www.udemy.com.
Link to the course
Its 49$ but 80% Off for specially you right now ! Use the below coupon code to get 80% off:  https://howtotips24.com