When a new WordPress website lands on the internet world it needs some essential must to have plugin. Jetpack is the first Plugin that you should install on your new website. Now you may ask, why is that? Ok, You will get not only one plugin but a bunch of essential tools that will enhance the capability of your blog. I am going to elaborate the features available.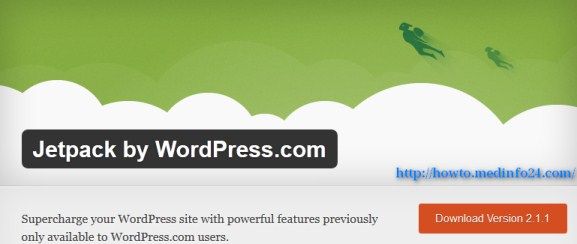 Why You Need Jetpack
Requires: WordPress3.3 or higher
Compatible up to: 3.5
Last Updated: 2013-1-5
Downloads: 3,802,117
These rocking features of WordPress.com's Jetpack I am going to going to tell you will certainly change your mind to install Jetpack.
WordPress.com Stats
The single most important feature of Jetpack. You can get a full featured statistics of your website. There are many plugins and services that provide statistics, but data can be overwhelming. WordPress.com Stats makes the most popular metrics easy to understand through a clear and attractive interface.
Publicize
It's a good thing to share your contents on Social media instantly after writing the post. Publicize will do that for you. Publicize allows you to connect your blog to popular social networking sites and automatically share new posts with your friends. You can make a connection for just yourself or for all users on your blog.
Publicize allows you to share your posts on Facebook, Twitter, Tumblr, Yahoo!, and Linkedin.
Jetpack Comments
It has this unique commenting feature. But if you wish may not Activate it and can use your own sites comment system. There are plugins like DisqUs that will do the same work for you. Jetpack Comments enables your visitors to use their WordPress.com, Twitter, or Facebook accounts when commenting on your site.
Subscriptions
If your visitor likes your post they may subscribe to your website for further reading. You don't need to think for that. Jetpack has this feature easily allow any visitor to subscribe to all of your posts via email through a widget in your blog's sidebar. Every time you publish a post, WordPress.com will send a notification to all your subscribers.
When leaving comments, your visitors can also subscribe to a post's comments to keep up with the conversation. And its vital !
Carousel
With Carousel active, any standard WordPress galleries you have embedded in posts or pages will launch a gorgeous full-screen photo browsing experience with comments and EXIF metadata.
Post by Email
Post by Email is a way of publishing posts on your blog by email. Any email client can be used to send the email, allowing you to publish quickly and easily from devices such as cell phones.
Sharing
Sharing your content and spread it to the to social site You must install a Social Share plugin. But if you have Jetpack, you can get this for free. The most super duper sharing tool on the interwebs. Share content with Facebook, Twitter, and many more. See here how to Add Additional Share Button To Jetpack.
Gravatar Hover cards
Have you heard the name of Gravatar ? Not ? Then make a comment in this post. You will see a image beside your name. That is your Gravatar picture. See here Add a Gravatar Profile Picture in Everywhere You Comment. Where ever you comment this picture will be shown
Mobile Theme
There's a good chance that visitors to your site will be using a smartphone, and it's important to provide them with a great reading experience while on the small screen.
Jetpack's mobile theme is optimized for small screens. It uses the header image, background, and widgets from your current theme for a great custom look. Post format support is included, so your photos and galleries will look fantastic on a smartphone.
Visitors on iPhone, Android, Windows Phone, and other mobile devices will automatically see the mobile theme, with the option to view the full site. You can enable or disable the mobile theme by clicking the "Activate" or "Deactive" button above.
Contact Form
Want to get feedback from your readers or make easy to contact with you ! Add a contact for to a page. See mine. I thought I have to install another plugin while I have Jetpack.
WP.me Shortlinks
Instead of typing or copy-pasting long URLs, you can now get a short and simple link to your posts and pages. This uses the super compact wp.me domain name, and gives you a unique URL you can use that will be safe and reliable.
Custom CSS
The Custom CSS editor gives you the ability to add to or replace your theme's CSS, all while supplying syntax coloring, auto-indentation, and immediate feedback on the validity of the CSS you're writing.
Photon
Give your site a boost by loading images in posts from the WordPress.com content delivery network. We cache your images and serve them from our super-fast network, reducing the burden on your Web host with the click of a button.
JSON API
Jetpack will allow you to authorize applications and services to securely connect to your blog and allow them to use your content in new ways and offer you new functionality.
There are some other features that you can check. Ok ! Now whats are you thinking. Have you decided to install Jetpack.
How to Install Jetpack
Install Jetpack either via the WordPress.org plugin directory, or by uploading the files to your server
After activating Jetpack by WordPress.com, you will be asked to connect to WordPress.com to enable the Jetpack features.
Click the connect button and log in to a WordPress.com account to authorize the Jetpack connection.
If you don't yet have a WordPress.com account, you can quickly create one after clicking the connect button.
That's it. You're ready to go!