Mozilla Firefox is ome of the best and user friendly web browser. A lot of people use this browser to surf internet. You can see my other posts about Firefox. Today i am going to show you some Add ons that can increase the browsing speed and make web page load faster. Actually i believe that speed mainly depends upon your network connection. But it has something to do with browser obviously. Have you tried About:Config tips. If not se see here the How to Make firefox faster by About:Config Tips. So lets start the show.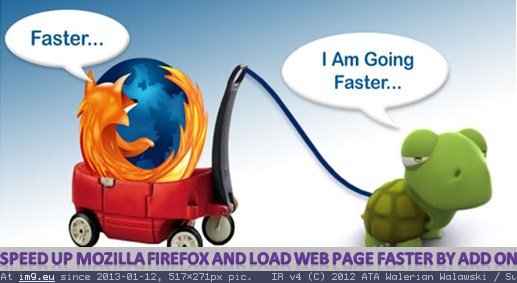 210

User reviews
113,886

Users
Previously known as the popular Fasterfox. Performance and network tweaks for Firefox, without the Enhanced Prefetching. This is a fork from the original "Fasterfox". This is provided byWips.com s.r.o.
About this Add-on
Great performance
Lite does not mean less performance, it is just a reference to the removal of the obtrusive Enhanced Prefetching ability in Fasterfox. Enhanced Prefetching was removed for this Lite version because it wastes a lot of server bandwidth and causes unnecessary server load.
Presets
Fasterfox Lite comes with pre-configured tweaks to improve the browsing speed of Firefox when using most broadband internet connections. Fasterfox Lite will speed up your web browsing right out of the box with no assembly required. People who complain that Firefox is slow obviously do not have Fasterfox Lite installed. (Actual speed improvements may vary depending on the desired settings that are used and the presented testing situation.)
Simple controls
Fasterfox Lite allows you to easily tweak many network and rendering settings such as simultaneous connections, pipelining, cache and initial paint delay. Unique to this Lite version are included options for SSL Pipelining, timer-based content reflows, UI Responsiveness, Link Prefetching, IPv6 DNS lookups, and by default the Page Load Timer is disabled.
FastestFox
338

User reviews


469,217

Users
It has many Functions that may make you feel tensed ! Read before you add it.
Save time by speeding up repetitive tasks. Get faster, parallelized downloads, see definitions, auto-load the next page, improve searching, and more. FastestFox will dramatically enhance your productivity! This add on is provided by yongqli.
NEW: enhanced Google searches with related queries and results
NEW: image based price comparison feature powered by Superfish
"Download page media" will find currently playing videos and allow you to save them to your computer (works on YouTube, etc).
To open the qLauncher, press Ctrl + Space. You can change this in the options dialog.
All the options are in Tools -> FastestFox. You can easily disable any feature you don't want.
This is not so much popular but at least you can try it. This add-on does DNS pre-resolution of all the links on a web page and hence saves the extra second that it takes to lookup this information when you click on a link. No more starring at your web pages till it loads.